Mr. Eells co-founded TenDot in 2005, and served in various capacities until 2014. In 2014, he was named President.
With over 12 years of experience in the meeting management and incentive travel industry, Mr. Eells builds lasting relationships with TenDot's partners through successful programs and events that produce results. He graduated from the University of San Diego with a BA in Spanish and certification in Not-for-Profit Leadership. He worked as a Director for the world's largest meeting management and incentive travel company. Following this experience, he returned to his native Lincoln, NE to create TenDot. With his extensive knowledge of the world and cultures, Mr. Eells possesses the tools to seamlessly integrate client's goals with a uniquely designed program to fit their needs.
As a speaker, he has provided numerous presentations and keynote speeches on entrepreneurship, the customer service experience, leadership, aligning personal and professional values, sales leadership and building relationships.
He is a member of the Entrepreneurship Organization (EO), a founding member of Lincoln's Young Professionals Group, volunteers with Junior Achievement and serves on the judicial nominating commission at the request of Governor Pete Rickets.


Su Eells
Vice President, TenDot 
Su Eells, Vice President of TenDot, has traveled around the globe looking for excitement, all the while having a career in health care. She has worked in most aspects of the cardiology field and has led staff and physicians in top rated programs. Su brings her passion, enthusiasm, leadership and knowledge of customer service and communications to TenDot. All successful companies must have stellar customer service. Su's responsibilities include coordinating between the TenDot subsidiaries.

Su and her husband, Rick, have raised their two "boys" in Lincoln and are ecstatic that they brought their talents and knowledge back to Lincoln to build TenDot into a world-class organization. This has given Su the opportunity to continue globe-trotting, while giving TenDot customers the absolute best experience possible.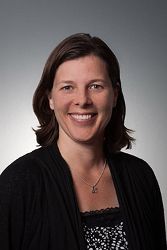 Jill Frost
Program Manager, TenDot 
Jill Frost has been a leader in the incentive travel and meeting management industry for over 20 years.  She currently serves as a program manager and lead travel director for all programs, ensuring client satisfaction through high-level execution of meetings, trade shows, and conferences.  Jill also assists with logistics, tracking and monitoring of budgets, contract negotiations, and strategic planning for program success.
Her ability to exceed client expectations and understand the industry stems from her education, experience and dedication to continual learning. With a degree in hotel and restaurant management from Central Missouri State, Jill has been employed in the U.S. and abroad, in a variety of positions, giving her exposure to both sides of the industry. An internship in St. Thomas more than two decades ago exposed her to the excitement and rewards of incentive travel.  That experience ignited a passion for the industry that propelled her forward, working for many high profile companies, including Landmark Incentive Marketing, a Chicago-based incentive travel company, ultimately leading her to join the TenDot team.
Jill is eager to introduce people to the hidden gems of the world. She believes in the power of travel and has witnessed the impact it can have on an individual's performance and outlook on life. She works diligently to keep up on the ever-changing industry and constantly challenges clients to raise the bar to reward their employees. 
Outside of work, Jill enjoys being involved in the community, traveling, and spending time with friends. One of Jill's favorite travel experiences was to the Great Wall of China. Marveling in the essence of the wall's history, she said she was captivated by the culture surrounding such a great legacy. She also places Glacier Bay, Alaska and Bali near the top of her list. She and her husband reside in Kansas City with their two children.


Beckie Albee
Marketing Director, TenDot 
With a background in B2B marketing and communications, Beckie Albee brings a wealth of experience to the table. As TenDot's Marketing Director, Beckie is responsible for the creation of marketing plans for incentive travel programs, communications and branding for meeting management, and overall sales support. 
After receiving her associates degree in marketing management from Southeast Community College, she went on to receive her bachelors degree from Bellevue University and sought opportunities to put her skills into action.
Her work history includes a rebranding initiative for a B2B (commercial) real estate organization, social media marketing for small business, and fundraising, engagement, and marketing for nonprofit and community organizations. 
Beckie and her husband Adam reside in Lincoln and enjoy traveling throughout the country for work and pleasure. She cites one of her most memorable travel experiences as the opportunity to attend the Billboard Music Awards in Las Vegas in 2013.